16-Bit Mania



500 Edits!!

9 American Wrestling Promotions!!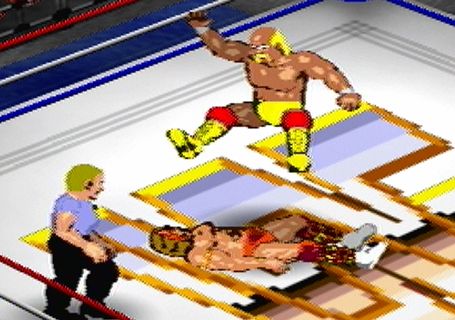 Hulk Hogan vs Ultimate Warrior from WWF 80's
---
For PS3 Save look to the 3rd post in this thread
---
Hello wrestling fans!!
The Concept
: Inspired by past arcade and console wrestling titles such as Mat Mania and the Technos WWF games(Wrestle Fest and Superstars) I've decided to use my "16-Bit" style and apply it to the real feds. I'm making the wrestling game I always wanted as a kid.
The Style
: I have created a base move-set that has 6 variations such as Power, Junior, Technician ect. The finishers and taunts will be wrestler specific, as well as a few smaller moves(Heels do Eye Rake instead of Snapmare) but as a whole they will share most of the moves, everyone will use a steel chair outside the ring and everyone(save giants) can do top rope moves. I have the complete Move Set with Style Variations listed below in a spoiler box. Since this is my tribute to Console and Arcade wrestling games, the move sets will reflect the limited style.
I also have an
Expansion Pack
for 16-Bit Mania that fills out the rosters, it was released in December of 2010. Here is the link for it:
---------------------------------------------------------------------------------------------------------------------
Click Spoiler for
Full Pack Roster
:
Click Spoiler Box for
Move Sets
:
Click Spoiler Box for some
Preview Pics
:
Click Spoiler Box for
Update History
Captain Howdy Edits: Tickling your Nostalgia Bone since 2006.